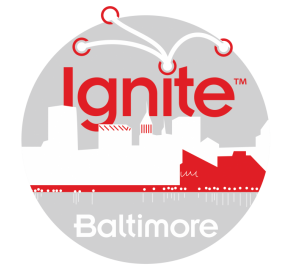 Ignite's mission is "Everyone Speaks". We believe that public speaking builds confidence in individuals and that events like Ignite build community. Our goal is to make it possible for anyone, anywhere, to learn to present their ideas and their stories.
At every Ignite Baltimore, 16 artists, technologists, thinkers and personalities get 5 minutes and 20 slides to spark new conversations and collaborations across cultures and disciplines.
We want to reach even more people while keeping the price of admission as low as possible. We rely on our sponsors to make this possible. With your help we will be able to host two events per year.
To allow for companies of all sizes to contribute to events, there are several levels of sponsorship. Sponsorship is per event. Opportunities remain for our October 16, 2019 event, and more will be available for future events in 2020.
PRESENTING PARTNER* - $1,000 +
IGNITER* - $750
SPARK - $350
FRIEND - $150
Other sponsorship amounts, repeat sponsor incentives and custom sponsorships are available. Contact info@ignitebaltimore.com for more information.
Donate via Credit Card or eCheck
Ignite Baltimore FAQ
Is my donation tax deductible?
Yes, we are a fiscally sponsored project of Strong City Baltimore, which is a public 501c3 organization recognized by the IRS. Your donation is tax-deductible to the fullest extent permissible by law.
WeDidIt FAQ
Is my donation and credit card info secure?
Yes, the security and confidentiality of your information is our highest priority. We will not sell, trade or share your personal information with anyone else, nor send donor mailings on behalf of other organizations, and we will only share personal information if you have given us specific permission to do so.
How do I know that my donation was made successfully?
You will receive an emailed receipt immediately after your donation is submitted and your credit card is processed. Your donation will also show up on your bank or card statement within 1-3 business days.
Do I get a receipt?
Yes, a receipt is sent to your email inbox once your donation is processed. Please be sure to keep a copy of your receipt for tax purposes. If you select a recurring donation, you will be sent an individual receipt each period when your donation is processed.
Is my donation private?
We will not share or sell a donor's personal information with anyone else, nor send donor mailings on behalf of other organizations.